Friday Harbor, WA: San Juan Island Food Co-op
October 1, 2016 @ 5:00 pm

-

7:00 pm

Free
San Juan Island Food Co-op screens the film at 5:00 on Saturday, October 1st.
October is National Co-op Month and Savor the San Juans!
San Juan Island Food Co-op will be kicking things off on Saturday, Oct 1 with the 2nd annual showing of the film Food For Change following the Farm Parade.  Come join us for both.
At 2:30pm   SJI Food Co-op staff, board, and volunteers will march down in the farm parade.  The parade starts at the fairgrounds, proceeds down Argyle to Spring Street and then around the block to finish at Brickworks.  Come out and watch or join in.  It's not just for farmers!  Anyone that loves local food is encouraged to join in the parade or hoot and holler from the sidelines.
After the parade, please join San Juan Island Food Co-op folks at the Grange.  We will host a 5 PM screening of the film Food For Change.  Food For Change is a documentary film about Local Food Co-ops and their quest to help create local and regional food systems.
You may recall that two years ago the San Juan Island Food Co-op helped to fund production of the film.  Last year the Co-op was the official sponsor of the film at the Friday Harbor Film Festival.  This year we are pleased to be screening it once again.  Now that the film is completed, the producers have a goal to distribute it as widely as possible, spurring on the growth of food co-ops world wide.  You can help support their outreach and distribution plan.  Attend the screening, spread the word, or make a donation at https://www.generosity.com/education-fundraising/food-for-change-education-and-outreach .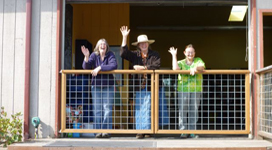 See you there!   http://sanjuancoop.org/
Small screen? Open in Google Maps
Screenings of Food for Change — National Co-op Month, October 2018
Not on the calendar? Email us to host a screening.