Pittsburgh, PA: East End Food Co-op
October 13, 2016 @ 7:00 pm

-

8:30 pm

Free
East End Food Co-op
will screen the film in the POWER/EEFC Conference Room at East End Food Co-op.
The East End Food Co–Op has been around since the 1970's when it was hard to find organic, natural, healthy options in conventional grocery stores. Reading through their web site and mission statements, you know that they're all about good, wholesome, sustainable, natural foods – and this mural seems to reflect that policy.
You see an abundance of fresh fruits and vegetables growing right next to the city, which would mirror the Co–Op's goal of buying locally grown, healthy foods as much as possible. When we contacted the artist, Mr Guerra told us all about his design:
"The process in the beginning consisted of 3 concept drawings. The good folks of the East End food co op were very diplomatic with how they decided on the final product, voting and conversing amongst their staff over a couple weeks as well as taking input from me. Their big goal was to compile the themes of city, farm/produce, and community. I am a tattoo artist by trade so flow and design is huge with me. I did two different versions with the woman as the main subject and the flowing hair amongst an abundance of produce and a city scape. The community theme fell through in the final draft just because of how busy it already was. The symbolism is pretty literal. The woman figure is painted as mother earth and has her hands around the sun which is where her heart would be, also the location of one of the chakras. It is really just a ode to the reason life exists sans any notions of intelligent design, that tends to take away from what we can absolutely determine as our source of life not to mention the sun was worshiped before anything else. As I stated before the abundance of produce and the crop field is pretty self explanatory. I wanted to have multiple field workers joined hand in hand but given winters rapid approach and the late start date due to deliberations on concepts taking so long I decided not to. The city scape as well with the two main sky scrapers of Pittsburgh in the foreground. The experience of painting the mural was awesome. I am in no way a morning person so the early starts were a welcomed change for me. I also looked forward to eating something from the buffet everyday. I don't get to eat that healthy much and just took a little of whatever was out and never was disappointed. Major props go to the cooks. All of the members and patrons who passed by as well as random city goers were very supportive and talkative. It was very refreshing to have that much human interaction and to receive a lot of great feedback including a lot of thank you's for improving the place they are so fond of.
He also wrote I would like to add everyone who worked at the co op was veeerrryyy helpful and nice, it was a great experience and made me want to live in the city more than I already do.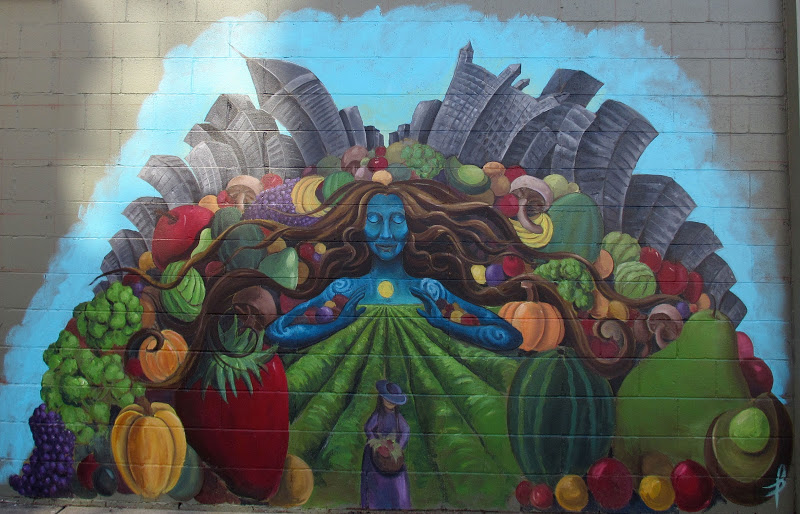 Small screen? Open in Google Maps
Screenings of Food for Change — National Co-op Month, October 2018
Not on the calendar? Email us to host a screening.